Timothy McCormack ティモシー・マコーマック
録音のサンプルを聞くにはタイトルをクリックして下さい /

please click on the titles to hear the music samples
CF3
:
Glass Stratum
(2011) for piccolo and violin duo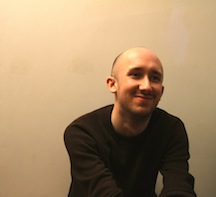 1984年クリーブランドに生まれ、現在シカゴを拠点に活動している。言語学または音声学的視点を重要視し、自身の作曲に反映させている。感覚、濃度、文脈、奏者、楽器、装置、さまざまな観点から音楽と向き合い、選び抜いた方法で、熱狂的に絶え間なくことばによるテクスチュアを起用することにより、作品を書き上げる。指、弦、舌、リードについて、繊細なところから大きな視点まで気を配り、音の構造を楽器ー奏者の関係をくまなく分解し、複雑性、不安定性、変幻自在性を併せ持つ作品をつくりだす。
これまでに作品は、ELISIONアンサンブル、アンサンブルSurPlus、JACK弦楽四重奏団、Formalist弦楽四重奏団、アンドリュー・マッキントッシュ、スティーブ・メノッティ、マーク・メンツィス、スティーブ・パーカー、クセーニャ・ペストヴァによって、また、アメリカ国内のみならず、オーストリア、オーストリラリア、カナダ、イギリス、ドイツ、ギリシャ、ニュージーランドで演奏される。
ハッダースフィールド大学(イギリス)にて、アーロン・キャシディーとリザ・リム両氏に師事。研究テーマは楽器と身体の構造を反映させた作曲である。オバーリン大学オバーリン音楽院にてルイス・ニールセンとランドルフ・コールマンに師事。2009年にはシュロス・ソリチュード夏期講習に奨学生として参加し、ハヤ・チェルノヴィン、スティーヴン・タカスギ、クラウス・シュテファン・マーンコプフ、マーク・アンドレ各氏に師事する。これまでに作曲のレッスンをジェーソン・エカート、オルガ・ノイヴェルト、フィリップ・マヌリ各氏から受ける。2011年秋よりハヤ・チェルノヴィンの指導のもと、ハーヴァード大学音楽学部博士課程に在籍予定。

www.timothy-mccormack.com
Timothy McCormack (b. 1984; Cleveland, OH) is a composer currently based in Chicago, IL. His musical thought is largely informed by his conviction that an aural experience is a profoundly subjective one, and his music seeks to heighten this facet in performative contexts. Dealing with issues of perception, density, contextualization and the performer-instrument apparatus, his music behaves obsessively, using a limited syntax to explore a highly contained territory while utilizing unceasingly frenetic aural textures. Focusing on the microscopic but violent space between a finger and a string or a tongue and a reed, McCormack's music dissects and autonomizes the modes of sound production and the physical relationship between performer and instrument, to create a complex, destabilized, and ever-changing aural terrain.
McCormack has been performed and commissioned by a number of eminent contemporary music specialists, including the ELISION Ensemble, Ensemble SurPlus, the JACK Quartet, the Formalist Quartet, Richard Haynes, Andrew McIntosh, Steve Menotti, Mark Menzies, Steve Parker and Xenia Pestova. His works have been performed throughout the world, with notable performances in Australia, Austria, Canada, England, Germany, Greece, New Zealand and throughout the United States.
McCormack studied at Huddersfield University (UK) with Aaron Cassidy and Liza Lim, and where he researched instrumental mechanism and physicality as compositional resources. He attended the Oberlin Conservatory of Music where he studied with Lewis Nielson and Randolph Coleman. In 2009, he was awarded a stipend to attend the Schloss Solitude Sommerakademie, where he studied with Chaya Czernowin, Steven Kazuo Takasugi, Claus Steffen-Mahnkopf and Mark Andre. In addition, he has studied in masterclass or private lesson settings with Jason Eckardt, Olga Neuwirth, and Philippe Manoury. In 2011, he will begin PhD studies at Harvard University under the guidance of Chaya Czernowin.
www.timothy-mccormack.com