Santiago Tomás Díez-Fischer サンティアゴ・トーマス・ディエス・フィシャー
録音のサンプルを聞くにはタイトルをクリックして下さい /

please click on the titles to hear the music samples
CF1
:
loop's definition II
(2010) for violin solo
Hibari:
no son más silenciosos los espejos
(2010) for piccolo solo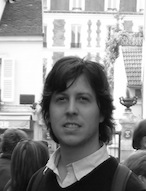 1977
年生まれ。アルゼンチンカトリカ大学音楽学部にて、Julio Viera、Jorge Sad、Francisco
Kröfl
各氏の指導のもと、作曲ならびに合唱指揮を専攻し卒業。2006~2008年の間パリにてChristine Groult ,
Francois Bayle, Denis Dufour and Philippe Leroux
の各氏に師事。
現在、2009/2010年、IRCAMのコンピューター音楽専門コースCURSUS1の助成を受け研究員。2003年ドイツのEichstät-Ingolstadカトリック大学より奨学金を得る。2004年はAntorchas基金
(
フルブライトーアルゼンチン)、アルゼンチン文化庁から、助成金を得る。同年、アトランティックセンター(アメリカジョージア州)でのアーティストレジデンスにも参加。2006年にはアルゼンチン・モーツァルト協会よりCité
Internationale des Arts (
パリ国際芸術都市レジデンス)を提供される。
2003
年、パリSCRIME作曲コンクールのファイナリストとなる。ポルトガルでの音楽祭ムジカ・ヴィバでは2003年入選、2005年優勝。アルゼンチンの第5回エレクトロニクス音楽コンクール、TRIME
2004
にて入選。ブルージュ国際作曲コンクールにて2007年の特別賞、翌年2008年ファイナリストとなる。2009年、スペインのジョアンキン・ジョアン作曲コンクール 優勝。
2003
年、2007年現代音楽協会に選出され、新鋭作曲家としてパリにて自作が演奏される。これまでに作品がTM+ (コペンハーゲン
MUSIKHØST 2008), CAIRN
アンサンブル、 Lonbaアンサンブル、に演奏される。これまでアンサンブル・syntax
(
フランス)、Chiasmo アンサンブル (アメリカ)、ブラン・メニル音楽院
(
パリ近郊)、サンティアゴ電子音楽センター(チリ)、Australカルテット (アルゼンチン)より作品を委嘱される。現在、Cairnアンサンブル (2010年フランス)、Luminarトリオ
(2010
年アルゼンチン)、Vortexアンサンブル(2011年スイス) である。
アルゼンチンLanús国立大学にてL.E.M.C.
(
現代音楽&即興音楽アンサンブル)を組織している。楽譜はフランス、スペイン、ポルトガルで出版され、アルゼンチンでCDがリリースされている。

http://www.reverbnation.com/santiagodiezfischer
http://www.myspace.com/santiagodiezfischer
Santiago Tomás Díez-Fischer (1977). He graduated on composition and Choir direction in the UCA. He took composing lessons with Lic. Julio Viera, Lic. Jorge Sad and Francisco Kröfl and in the city of Paris with Christine Groult , Francois Bayle, Denis Dufour and Philippe Leroux during the period 2006-2008.
He obtained a scholarship at the IRCAM 2009/2010 for the CURSUS 1 in composition. He also got a scholarship in composing research in Eichstät-Ingolstad University, Germany (2003), a subvention for artistic creation at the Antorchas Fundation (2004), a scholarship of the Secretaría de Cultura de la Nación (2004), a residence at the Altantic Center for the Arts, United States. In 2006 he obtained a scholarship given by the Embassy of France, Mozarteum Argentine and "Cité Internationale des Arts".
He was finalist in the SCRIME 2003 competition. He also received a mention in the competition of the Festival "Música Viva 2003" in Portugal, of the "5o concurso de música electroacustica", Argentina, of the competition TRIME 2004, the competition "Juan Carlos Paz" for Orchestra, of Bourges 2007, a mention in "Miniaturas Electroacústicas" 2007 and two mentions in the "Bourges Composition Competition". He also received a first prize in the MUSICA VIVA 2005 and in the Prix Joan Guinjoan 2009 (Spain).
The "Société Internationale pour la Musique Contemporaine" programmed his pieces in the Forum of the "Jeune Création Musicale" in Paris (2003/2007). His works have been interpreted by ensembles such as TM+ in the MUSIKHØST 2008 (Copenhague), CAIRN ensemble, Lonba Ensemble, etc. He had been ordered several pieces: Sobre las nubes (Ensemble Syntax, France), La fleur bref (Chiasmo Ensemble, EEUU), Reflections (Conservatoire de Blanc Mesnil), Graphyas (Electroacoustic Music Centre of Santiago de Chili), Overprinted (Austral quartet, Argentina) and he have been asked to compose several pieces for the next years from the Cairn Ensemble (2010, France), Luminar trio (2010, Argentina) and Vortex Ensemble (2011, Suisse)
He has created the L.E.M.C. Ensemble for improvisation of contemporary music in the National University of Lanús, where he is professor. He has three works edited in France, Spain and Portugal.
http://www.reverbnation.com/santiagodiezfischer
http://www.myspace.com/santiagodiezfischer