Sam Nichols サム・ニコルス
録音のサンプルを聞くにはタイトルをクリックして下さい /

please click on the titles to hear the music samples
CF3
:
Wrack
(2010-11) for violin and piano duo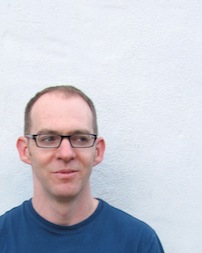 北カリフォルニア在住の作曲家。
これまでの受けた作品依頼のうちには、レフト・コースト室内アンサンブル(2回)、イヤープレイ、ウェルズリー大学作曲家会議による委嘱がある。作品は主にアメリカとヨーロッパで取り上げられ、過去にソプラノ歌手Haleh Abghari、チェロ奏者デーヴィッド・ラッセル、ピアノ奏者(エミィ・ブリッグス、シュアン・チャイ、サブリナ・デ・カルロ、クリストファー・ウェンデル・ジョーンズ、カロリーナ・ルーヤーン)などに演奏されている。コンクールでの受賞や助成授与は、イリノイ大学での2010年サルヴァトーレ・マルティラーノ記念作曲賞三位、サンフランシスコ州立大学国際アートセンター、モンタルヴォ・アートセンター等、数多い。現在彫刻家ロビン・ヒルとのマルチ・メディアなインスタレーションプロジェクト、打楽器奏者クリス・フローとの共同製作が進行中。また、2人の指揮者を伴うオーケストラ作品、カフカ「変身」に基づいた室内オペラを作曲中。
メイン州生まれ、ヴァッサー大学を1994年卒業後、ブランダイス大学にて修士(1999年)・博士(2006年)を取得。現在カリフォルニア大学デーヴィス校音楽学部ならびにテクノ文化研究プログラムにて教鞭をとる。

http://samnichols.net/
Sam Nichols is a composer who lives and works in Northern California.
He's received commissions from a number of ensembles and organizations, including the Left Coast Chamber Ensemble (twice), Earplay, and the Composers Conference at Wellesley College. His music has been performed across the US and Europe by musicians such as soprano Haleh Abghari, cellist David Russell, and pianists Amy Briggs, Shuann Chai, Sabrina De Carlo, Christopher Wendell Jones, Karolina Rojahn, and Karen Rosenak. He's received awards and fellowships from the University of Illinois (3rd Prize, 2010 Salvatore Martirano Memorial Composition Prize), the International Center for the Arts at San Francisco State University, the Composers Conference, and Montalvo Center for the Arts, among others. He's been involved in a number of electronic music projects, producing several multi-media installations in collaboration with sculptor Robin Hill, and also performing with percussionist Chris Froh. Upcoming projects include an orchestra piece for two conductors, and a chamber opera after Kafka's The Metamorphosis.
Born in Maine, he attended Vassar College (BA, 1994) and Brandeis University (MA 1999, PhD 2006). He works as a lecturer in the UC Davis Music Department; he also teaches in collaboration with the Technocultural Studies Program.
http://samnichols.net/