Ray Evanoff レイ・エバノフ
録音のサンプルを聞くにはタイトルをクリックして下さい /

please click on the titles to hear the music samples
CF4
:
Interpolations Hewn From a Choice Machine
(2011) for flute, violin, piano trio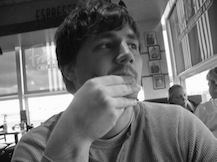 1984
年生まれのアメリカの作曲家であり即興奏者。人それぞれの独特な美的感覚の伸張を発展させ、既存の伝統や流行、常識を覆すことを目指し作曲をする。これが時に、感覚、ミクロ⇔マクロ、機能的逸脱にこだわる所以である。作品はコラボレーションのもと、エリジョン・アンサンブル、アンサンブル・サープラス、ジョニー・チャン、セス・ジョエル、ライアン・マンシー、クセーニャ・ペストヴァによって、ヨーロッパ各国、北アメリカで演奏される。即興奏者としてはイギリスとアメリカ国内で活動し、音楽関係で信頼のおけるいくつかのグループとの録音がある。
2006
年カレッジ・オブ・チャールストンを音楽理論と作曲分野首席で卒業後、
2009
年ハダースフィールド大学大学院修士課程を優秀な成績で修了。現在アーロン・キャシディーの指導のもとハダースフィールド大学大学院博士過程に在籍。

rayevanoff.wordpress.com
Ray Evanoff (b. 1984) is an American composer and improviser whose work focuses on the development of a uniquely personal aesthetic and eschews the extant value systems of tradition, fashion, and common sense. This often includes a focus on extremes of touch, scale, and functional divergency. His activity as a composer includes collaborations with and performances by ensembles and soloists such as the ELISION Ensemble, Ensemble SurPlus, Johnny Chang, Seth Josel, Ryan Muncy, and Xenia Pestova, among others, in concerts across Europe and North America. As an improviser, he has performed throughout the UK and the US, and released several recordings with groups which emphasize the cultivation of long-standing musical relationships. He received his B.A. in Music Theory & Composition from the College of Charleston in 2006 (Summa Cum Laude) and his MMus in Composition with Distinction from the University of Huddersfield in 2009. He is currently researching concepts of musical identity under the supervision of Aaron Cassidy as part of his PhD studies at the University of Huddersfield.
rayevanoff.wordpress.com