Pablo Ortiz パブロ・オルティス
録音のサンプルを聞くにはタイトルをクリックして下さい /

please click on the titles to hear the music samples
CF2
:
Spinning is Happiness
(2010) for flute, violin, piano trio
Hibari:
Stray Dog
(2011) for flute and piano duo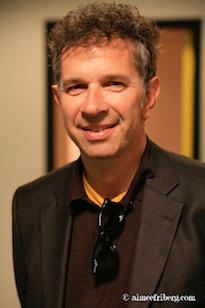 現カリフォルニア州立大学デーヴィス校作曲家教授。作品はこれまで、ブエノスアイレス交響楽団、アルディッティ弦楽四重奏、ジュネーブのContrechampsアンサンブル、ミュージック・モバイル、アンサンブルContinuum、ストラスブール・パーカッション・アンサンブル、サンフランシスコ・コンテンポラリーミュージック・プレーヤーズ、
Theatre of Voices
(ヴォーカルアンサンブル)に演奏された。さまざまな国際音楽祭からの招聘も多く、ザルツブルク、ジュネーブ、ストラスブール、ハヴァナ、フランクフルト、チューリッヒ、サンパウロ、メキシコシティ等で作品を発表している。1992年、Frommファンデーションより作品委嘱、1993年、グッゲンハイムフェローシップ、 1996年、アメリカ文学技術アカデミーよりチャールズ・アイヴス奨学金を授与。1997年と翌年、ブエノスアイレス・コロン劇場にて2つの室内オペラを委嘱され発表する。 1999年、クーセヴィツキー財団の委嘱を受け、新曲がサンフランシスコ・コンテンポラリーミュージック・プレイヤーズに演奏される。2000年、メキシコーアメリカを結ぶ文 化財団の依頼で2カ国語の子供の歌を発表。2004年、Gerbode基金の委嘱で
Chanticleer
(アカペラグループ)とサンフランシスコ・コンテンポラリーミュージック・プレイヤーズが新曲を演奏する。2008年アメリカ文学技術アカデミーよりアカデミーアワードを受賞。最近は、カタロニア国立管弦楽団による新曲初演や、マドリッド・ソフィア王妃芸術センターでの演奏会、ブエノスアイレスで振り付けのDiana Theocharidisとのコラボレーションが発表されている。

http://music.ucdavis.edu/people/pablo-ortiz
Pablo Ortiz is Professor of Composition at the University of California, Davis. Among those who have performed his compositions are the Buenos Aires Philarmonic, the Arditti String Quartet, the Ensemble Contrechamps of Geneva, Music Mobile, Continuum, Les Percussions de Strasbourg, the San Francisco Contemporary Music Players, and the Theatre of Voices. His music has been heard at international festivals in Salzburg (Aspekte), Geneva (Extasis), Strasbourg (Musica), Havana, Frankfurt, Zurich, Sao Paulo and Mexico City. He was commissioned by the Fromm Foundation in 1992. In 1993, he received a Guggenheim Fellowship. In 1996 he received the Charles Ives Fellowship from the American Academy of Arts and Letters. In 1997 and 1998, Ortiz was commissioned two chamber operas, Parodia and Una voz en el viento, by the Centro Experimental Teatro Colon in Buenos Aires. In 1999 he was commissioned by the Koussevitzky Foundation to write a piece,
Raya en el mar
, for the San Francisco Contemporary Music Players. In 2000 he received a grant from Fideicomiso para la cultura Mexico-US to write children's songs. In 2004, the Gerbode Foundation commissioned
Oscuro
, for Chanticleer and the San Francisco Contemporary Music Players. In 2008 he received an Academy Award from the American Academy of Arts and Letters. Recent premieres include
Suomalainen tango
, for orchestra, by the Orquestra Nacional de Catalunya,
Trois tangos en marge
by the Kovacik, Dann, Karttunen trio at the Museo Nacional Reina Sofia in Madrid, and the ballet
Intemperie
with coreographer Diana Theocharidis for the Teatro Municipal General San Martin in Buenos Aires.
http://music.ucdavis.edu/people/pablo-ortiz