Mihailo Trandafilovski ミハイロ・トランダフィロフスキィ
録音のサンプルを聞くにはタイトルをクリックして下さい /

please click on the titles to hear the music samples
CF5
:
TRI-O
(2013) for flute, violin, piano trio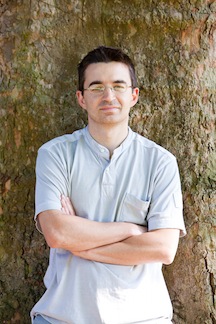 マケドニア出身の作曲家/ヴァイオリニスト。ミシガン州立大学卒業、英国王立音楽院にて大学院修士課程ならびに博士課程を修了。マケドニア文部科学省や、英国外務省チューヴニング奨学金など多くの助成を受ける。マケドニア現代音楽祭にて優秀作品としてパンチェ・ペシュブ賞受賞。多くの現代音楽を録音・演奏し世界的に知られるクライツラー・カルテットの一員。NPO基盤のフューズアートを結成・組織し、現代アートとのコラボレーションや現代音楽の流布に努めている。最近はクラリネット奏者ロジャー・ヒートンのための委嘱作品、ピーター・シェパード・スケアヴェズへのヴァイオリン協奏曲、ニューロンドン室内合唱団への委嘱などを発表。これまでにディオティマ弦楽四重奏、ピエロ・リュネール・アンサンブル・ウィーン、モスクワ現代音楽アンサンブルに演奏された。作品集CDがロンターノレコードより、クライツラー・カルテットのCDがLORELTより2011年リリースされた。

www.trandafilovski.com
Macedonian-born composer/violinist Mihailo Trandafilovski studied at Michigan State University, USA (BMus) and the Royal College of Music, UK (MMus, DMus). His work has been supported by the Macedonian Ministries of Science and Culture and the British Government (Chevening scholarship), amongst others; awards include the Panče Pešev Award for best new piece at the contemporary music festival Days of Macedonian Music. He is a member of the Kreutzer Quartet, with whom he has performed and recorded extensively, and is one of the founders and a Music Director of FuseArts, a not-for-profit organisation supporting shared projects among the arts and promoting contemporary artistic creativity to a wider audience. Amongst recent commissions are a clarinet quintet for Roger Heaton, violin concerto for Peter Sheppard Skærved, and a new work for the New London Chamber Choir. Other performers include Quatuor Diotima, Pierrot Lunaire Ensemble Wien, and the Moscow Contemporary Music Ensemble. A portrait CD with his chamber music performed by Lontano (conductor Odaline de la Martinez) and the Kreutzer Quartet was released in 2011 by LORELT.
www.trandafilovski.com