Marci Rabe マーシー・レーブ
録音のサンプルを聞くにはタイトルをクリックして下さい /

please click on the titles to hear the music samples
CF1
:
Venus
(2008) for piano solo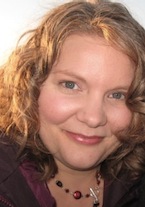 マーシー・レーブは作曲家であり、歌手としても活動し、従来の枠を超えた音楽の演奏に興味を抱く。作曲の際の、機能よりも音色を重要視した音の選択は、じかに直感に訴える音楽を産み出している。言語を用いた音楽では、言葉本来の意味だけでなく、響き方にも考慮して作曲をしている。わずかな音色や音の材質のニュアンスを拍感の強くない音楽へと織り込む。沈黙もまた、その前後やその時のなかでせめぎ合い時を作ることから、彼女の音楽に色彩をあたえる。
ウィルフリッド・ローリア大学卒業後、ヴィクトリア大学にて2004年修士課程修了。これまでに作曲をゴードン・ムンマ、クリストファー・バターフィールド、グレン・ビューア、リンダ・C・スミスとピーター・ハッチの各氏に師事。
2005
年、SOCAN (カナダ作曲著作権協会)の一員としてCONTACT現代音楽アンサンブルとのコラボレーターに選出され、マーシー・レーブの個展演奏会が開かれた。カナダ国内で多く演奏され、ヴァンクーバー・ニュー・ミュージック、モントリオール・コンテンポラリー・アンサンブル、コンティニュウム・コンテンポラリー・ ミュージック・アンサンブル、Aventa、音楽雑誌NUMUS、レイチェル・キヨ・イワッサなどに作品が取り上げられる。最近は米国やデンマークでも作品が演奏されている。

Marci Rabe is a composer and performer/singer interested in playing outside the box. Her music is intuitively chiselled and has a harmonic language based on colour more than function. Where words are incorporated into her work, they are selected as much for the appearance of their sounds as they are for their meaning. Subtle nuances in colour and texture fill a continuum of time where pulse has little bearing. Silence, too, is an integral colour on her palette; influencing and shaping those moments that it surrounds and that surround it.
Marci Rabe completed an M.Mus. at the University of Victoria in 2004 after having received a B.Mus., Honours Composition from Wilfrid Laurier University. During those years she studied with renowned composers Gordon Mumma, Christopher Butterfield, Glenn Buhr, Linda Catlin Smith, and Peter Hatch.
In 2005, Marci was awarded a short-term residency with CONTACT Contemporary Music with assistance from the SOCAN Foundation. This honour included a full concert of her work being presented. Her music has been performed across Canada by some of Canada's most revered organization, ensembles, and soloists including Vancouver New Music, Ensemble Contemporain de Montréal, Continuum Contemporary Music, Aventa, NUMUS, and Rachel Kiyo Iwaasa. More recently her work is beginning to gain international recognition with recent performances in the United States and Denmark.