Karen Power カレン・パワー
録音のサンプルを聞くにはタイトルをクリックして下さい /

please click on the titles to hear the music samples
CF3
:
is it raining while you listen
(2011) for flute, violin, piano trio
Hibari:
old fashioned chocolate fondue fountain
(2006) for violin and piano duo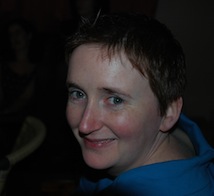 カレン・パワーは楽器本来の響きを生かした音楽、またエレクトロニクスを用いた音楽、双方を書く作曲家である。コーク・カレッジ大学在学中にポスト・ミニマリズムの影響を受け、現在の作曲語法を確立した。マイケル・オルコーン氏に師事し、
2009
年ベルファスト・ソニック・アーツ・リサーチセンター博士課程を修了。現在、カナダのバンフセンターならびにアイルランドの
Guesthouse
にレジデントアーティストとして滞在。以前カリフォルニア大学デーヴィス校にフェロー作曲家として在籍。
作品はこれまでアラーム・ウィル・サウンド、
SCAW
、カリン・レヴァイン、アルスター管弦楽団、ケート・エリス、
Mmm
トリオ、クワイエットミュージックアンサンブルに演奏される。受賞歴は数多く、アイルランド国内だけでなく国際的に音楽を発表する。また音楽の興味は幅広く、最近では音楽と動きを合わせた作品、映像と音のコラボレーションの企画が進行中。
アイルランド作曲家連盟
(AIC)
、現代音楽振興会
(SPNM)
、国際女性音楽連盟
(IWMA)
、エレクトロアコースティック音楽協会
(SEAMUS)
メンバー。また、
ICC(
アイルランド作曲家コレクティブ
)
にも以前在籍していた。

http://www.cmc.ie/composers/composer.cfm?composerID=180
Karen Power is an Irish composer who writes primarily for acoustic and electroacoustic forces. Her initial interest in composition came during her undergraduate degree in University College Cork (UCC), where she familiarised herself with as many musical styles as were on offer while developing a compositional language with 'post-minimalist' influences.
In 2009 she completed a PhD in acoustic and electroacoustic composition at SARC (Sonic Arts Research Centre), Belfast, with Prof. Michael Alcorn. Throughout her PhD, Karen's works focused on the commonalities and individualities of both acoustic and electroacoustic composition aiming to develop a more integrated language, which acknowledges and utilizes such strengths.
Recently Karen has spent time in residency at The Banff Centre, Canada, The Guesthouse, Ireland and was a composer fellow at UCDavis, California, USA. Karen has written pieces for Alarm Will Sound, SCAW, Carin Levine, the Ulster Orchestra, Kate Ellis, Mmm Trio and Quiet Music Ensemble. She has been awarded national and international awards and honorary mentions for her work and has represented Ireland internationally on a number of occasions. Karen's compositional interests are constantly shifting, transforming and re-shaping, with current projects including a sound and movement collaborative work and a video and sound collaboration.
Karen Power is an active member of the AIC (Association of Irish Composers) the SPNM (Society for the Promotion of New Music), the IAWM (International Alliance for Women in Music), SEAMUS (Society for Electro Acoustic Music in the US) and a founding member of the ICC (Irish Composer's Collective).
http://www.cmc.ie/composers/composer.cfm?composerID=180