Jordan Nobles ジョーダン・ノーブルズ
録音のサンプルを聞くにはタイトルをクリックして下さい /

please click on the titles to hear the music samples
CF3
:
Light Through Trees
(2011) for flute and piano duo
Hibari:
Zephyrus
(2009) for piano solo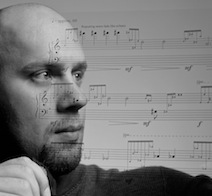 Known for creating music filled with an "unearthly beauty" (Mondomagazine) that makes listeners want to "close (their) eyes and transcend into a cloud of music" (Discorder Magazine), Jordan Nobles has emerged as one of Canada's finest and busiest composers. Recently Jordan was named the International Winner of the Polyphonos Choir Composition Competition (Seattle), was a finalist in the C4 Composition Competition (New York), and the Soli Fan Tutti Kompositionspreis 2010 (Darmstadt) and was named the Emerging Artist in music from the City of Vancouver's Mayor's Arts Awards. His orchestral work Aurora was chosen to be presented at the International Rostrum of Composers in Lisbon, Portugal and the ISCM Festival in Miami, Florida.
He continues to receive many National and International performances and commissions. His upcoming projects include a piano concerto for the Vancouver Symphony with pianist Corey Hamm, a chamber ensemble piece for Victoria's Aventa Ensemble for a European tour, music for dance and theatre and new commissions for ensembles in New York, Seattle, Victoria and Regina.
www.jordannobles.com