John Godfrey ジョン・ゴドフリー
録音のサンプルを聞くにはタイトルをクリックして下さい /

please click on the titles to hear the music samples
CF4
and
Hibari
:
for mmm...
(2012) for flute, violin, piano trio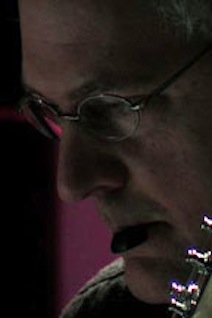 作曲家であり演奏家であるジョン・ゴドフリーは、アイルランド国立大学コーク校講師をしている。作品はアイルランド、イギリス、アメリカ、カナダ、ヨーロッパ各国、オーストラリアにて有数の音楽祭や施設で演奏されている。作品は、デッカ、アーゴ、カンタロープなどレコード会社で録音され、ラジオで広く放送された。イギリスを拠点とするアンサンブル・アイスブレーカーの創始者で、グループは広くヨーロッパとアメリカで活躍し
CD
を数枚リリースしている。
1997
年よりアイルランドのクラッシュ・アンサンブルのメンバーであり、ヨーロッパ、アメリカ、オーストラリア各地に演奏ツアーをし、ラジオで演奏が放送されたほか、ノンサッチ・レコードより
CD
をリリースした。
2008
年
7
月クワイエット・ミュージック音楽祭を指揮する。
RTE
リリック
FM
の番組ノーヴァでの放送含め、クワイエット・ミュージック・アンサンブルの演奏は、独特なレパートリーをユニークな見方で取り上げることで評判を呼んだ。
2012
年、クワイエット・ミュージック・アンサンブルのデビュー
CD
のリリースが予定されている。自由な即興奏者としてソロとしてアンサンブルとして活動する。これまでにポーリーン・オリヴェロスやデヴィッド・トゥープといった著名な奏者と共演。
2010
年上海万博アイルランド館にて、コーク拠点の即興デュオ
soundart
とシャン・ノース伝統歌唱歌手イアルラ・オリオナードと演奏した。
John Godfrey is a composer and performer, and lectures in music at the National University of Ireland, Cork. His compositions and arrangements have been performed in significant venues and festivals in Ireland, UK, USA, Canada, mainland Europe, and Australia. His work has been widely broadcast on radio and recorded on CD with labels including Decca Argo and Cantaloupe. John was co-founder and Musical Director of the UK-based New Music ensemble Icebreaker, which performed extensively in Europe and America and released several CDs. Since 1997 he has been a member of Ireland's Crash Ensemble; the group has performed frequently in Ireland, toured in Europe, USA and Australia, made radio broadcasts and has released a CD on Nonesuch. In July 2008, John co-directed the Quiet Music Festival, where his Experimental Music group, Quiet Music Ensemble, first performed: characterised by a unique repertoire and approach to performance, it has since then given several remarkable performances, including a live broadcast on RTE Lyric FM's Nova. QME will release its first CD in 2012. Godfrey makes frequent appearances as a free improviser, both solo and in ensemble. He has worked with renowned improvisers including Pauline Oliveros and David Toop; in 2010, he performed with the Cork-based soundart/improvisation duo and the sean-nós singer Iarla O'Lionaird for the Irish Pavilion at World Expo in Shanghai.