Evis Sammoutis エーヴィス・サムーティス
録音のサンプルを聞くにはタイトルをクリックして下さい /

please click on the titles to hear the music samples
CF1
:
Ταυτοφωνία
(2006) for violinist
Hibari:
Interpunct
(2011) for piano solo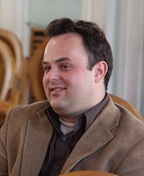 現在、キプロス・ヨーロピアン大学准教授であり、Pharos文化基金国際現代音楽祭の芸術監督。これまでにヨーク大学、ノッティンガム大学、ハル大学に招かれ、作曲、オーケストラ法、ギター奏法を教える。
ヨーク大学大学院博士課程作曲科を、トーマス・シマク氏に師事し修了。また、IRCAM、ダルムシュタット現代音楽夏期講習会、ロワイヨモン現代音楽セミナー、タングルウッド音楽祭にて、ヨルゴス・アペルギス、ジョージ・ベンジャミン、ブライアン・ファニホウ、ヘルムート・ラッヘンマンの各氏に師事。
これまでに作品をヴェネチア・ヴィエンナーレ、Klangspurenフェスティバル、 ロワイヨモン現代音楽セミナー、ダルムシュタット現代音楽夏期講習会ロイヤル・フェスティバル・ホール(パーセルルーム)、ベルリン・コンツェルトハウス、シンシナティMusicNOWフェスティバル、ガウデアムス国際音楽週間、ライプツィヒ・バッハフェスティバル、ボルツァノ・Transartフェスティバル、 国際現代音楽協会主催演奏会にて演奏。また、イギリスBBC ラジオ、ドイツランドラジオ、南西ドイツ公共放送、ドイツ海外放送、イタリアRAI放送、ポルトガルRTP放送、韓国KBS放送にて作品が放送される。作品を、アンサンブルモデルン、シュトラスブール・パーカッション・アンサンブル、ロンドン交響楽団、アーヴィン・アルディッティ、ロハン・デ・サラム、ピーター・シェパード・スケアヴェズ、指揮者フランク・オルー、エルガー・ハワース、カスパー・デ・ロー、クリストフ・ポッペンに演奏される。
ロイヤル・フィルハーモニー・ソサエティー・アワード、第5回ユーゲンセン国際コンクール、入野賞、アンドレス・セゴヴィア賞、第5回デュティユー作曲コンクール、それぞれの賞を受賞。2009年春、奨学生としてワイマール・フランツリスト音楽大学で学び、同年秋、フルブライト奨学金を得てボストン大学にてJoshua Finebergに学ぶ。
www.evissammoutis.com
Evis Sammoutis is Assistant Professor of Music at the European University Cyprus and the Artistic Director of the Pharos Trust International Contemporary Music Festival. He also taught composition, orchestration and guitar performance at York, Nottingham and Hull Universities.
Sammoutis holds a PhD in Music Composition from the University of York where he studied with Thomas Simaku. He also studied at IRCAM, Darmstadt, Voix Nouvelles and Tanglewood with Georges Aperghis, George Benjamin, Brian Ferneyhough and Helmut Lachenmann.
His works have been commissioned by festivals and organisations such as the Venice Biennale, Klangspuren, Royaumont and ARD and performed in more than 30 countries at venues and festivals such as the Purcell Room, Konzerthaus Berlin, MusicNOW, Gaudeamus Music Week, BachFest in Leipzig, Transart and the ISCM Festivals. His works have also been broadcast on many international radio stations such as BBC Radio 3 (United Kingdom), Deutschlandradio, SWR2, Deutsche Welle and ARD (Germany), Rai 3 (Italy), RTP (Portugal) and KBS1 (South Korea).
Performers include the Ensemble Modern, Les Percussions de Strasbourg, the London Symphony Orchestra, Irvine Arditti, Rohan de Saram and Peter Sheppard Skaerved, and conductors include Frank Ollu, Elgar Howarth, Kasper de Roo and Christoph Poppen.
He has been awarded prizes at many competitions, including the Royal Philharmonic Society Award, the 5th Jurgenson International Competition, the Irino Prize, the Andres Segovia Prize and the 5th Concours Dutilleux. Sammoutis spent the 2009 spring semester in Weimar as recipient of the prestigious Franz Liszt Scholarship and the fall semester in Boston as a Fulbright Scholar of Advanced Research, working with Professor Joshua Fineberg at Boston University.
www.evissammoutis.com