Evan Johnson エヴァン・ジョンソン
録音のサンプルを聞くにはタイトルをクリックして下さい /

please click on the titles to hear the music samples
CF2
:
L'art de toucher le clavecin, 2
(2009) for flute and violin duo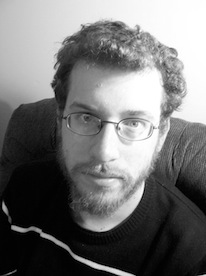 1980
年生まれのアメリカの作曲家。
2002
年、イェール大学を成績最優等で卒業後、ニューヨーク州立大学バッファロー校にてデイヴィッド・フェルダーの指導のもと博士号を取得。2008年より2010年まで、ノースイースタン大学にて博士研究員として、音楽理論と作曲を教える。
イェール大学在学中の奨学金を皮切りに、2003年ブライアンMイスラエル賞(現代音楽協会)、2006年ヨセフHバーンズ賞(コロンビア大学)、2007年奨学金(ロード・アイランド州アートカウンシル)、2007年アンセンブリアフェスティバル委嘱、2008年モートン・グールド若手作曲家アワード(ASCAP)、2009年、カルロス・スリナッチ委嘱賞(BMI基金)、コンサート・アーティスト・ギルド賞、2010年アーロン・コープランド賞、など数多くの賞や、助成金・奨学金を授与している。
これまでに作品は、ELISONアンサンブル、アンサンブルSurPlus、ヌヴェル・アンサンブル・モデルヌ、ヴォーカルアンサンブルEXAUDI、175イースト、スピーク・パーカッション、新ロンドン室内合唱団、アート・アンサンブルNRW、現代音楽協会、ナショナル交響楽団のソリスト、等に演奏される。
また、ダルムシュタット現代音楽祭、ヴィッテン音楽祭、ハダスフィールド現代音楽祭、Bludenzer Tage zeitgemäße Musik、スピタルフィールド音楽祭、アンセンブリアフェスティバル、などこれまで参加・招聘された音楽祭も数多い。
作曲だけでなく音楽学者としての執筆活動もしており、グローブ音楽オンライン辞典、テンポ、コンテンポラリー・ミュージック・レヴュー、スペクトラル音楽学書、ニューミュージックボックスの記事の掲載や、ModeレコードStradivariusレコードのライナーノーツの執筆も行っている。

http://www.evanjohnson.info
Evan Johnson (b. 1980) is an American composer whose music focuses on the physical and bodily underpinnings of instrumental performance, the ontology of time and proportion, and the structural potential of conflicting repetitive and canonic structures. He received his Ph.D. in composition from the State University of New York at Buffalo, where he studied with David Felder as a Presidential Fellow; other teachers include Johannes Schöllhorn, Chaya Czernowin, Richard Barrett and Brian Ferneyhough. A summa cum laude graduate from Yale University in 2002, Johnson has been invited to numerous composition seminars and festivals in the USA, Canada and Europe.
The recipient of a 2010 Aaron Copland Award and the 2009 Carlos Surinach Commission from BMI and the Concert Artists Guild, Johnson also received a 2008 Robert and Margaret MacColl Johnson Fellowship in Composition from the Rhode Island Foundation, for work "demonstrat[ing] exceptional creativity, rigorous dedication, and significant artistic merit." Other awards include those from ASCAP (2008 Morton Gould Young Composers' Award), the Ensemblia Festival (Shortlist 2007), the Rhode Island State Council for the Arts (2007 Fellow), Columbia University (2006 Joseph H. Bearns Prize), Society for New Music (2003 Brian M. Israel Prize), the New York Art Ensemble (Young Composers' Competition 2001), Broadcast Music, Inc. (a 2000 BMI Student Composer Award and Carlos Surinach Prize), the Washington Conservatory of Music (the 1997 Sotireos Vlahopoulos Young Composer's Prize), and Yale University (the Joseph Lentilhon Selden Memorial Award, in connection with which his music was described as "intellectually, technically, and emotionally rich and assured," the Abraham Beekman Cox Prize, and the Friends of Music Prize for his orchestral work Horizontals White over Dark).
His music has been performed throughout North America, Europe and beyond by musicians such as ELISION; Ensemble SurPlus; the Nouvel Ensemble Modern; EXAUDI; 175 East; Speak Percussion; the New London Chamber Choir; the Art Ensemble NRW; the Cantus Ensemble; the Society for New Music; pianists Ian Pace, Mark Knoop, Sebastian Berweck and Geoffrey Burleson; clarinetist Gareth Davis; violinist Mark Menzies; the Quatuor Bozzini; the New York Miniaturist Ensemble; and soloists from the National Symphony Orchestra, among others. His music has been programmed at international festivals of contemporary music, including the Darmstadt Ferienkurse (Open Space Darmstadt lecture-recital), Wittener Tage für neue Kammermusik (a commissioned work), Huddersfield Contemporary Music Festival, Bludenzer Tage zeitgemäße Musik, the Spitalfields Festival (London), the Ensemblia Festival (Mönchengladbach, a commissioned work), and others. Current and future projects include works for bass flute (for Claire Chase); soprano, cello and double bass (his third work for ELISION); for piccolo, violin and percussion (for Richard Craig); and for contrabass clarinet (for Gareth Davis). Also active as a writer on music, Johnson has contributed to Tempo, Contemporary Music Review, Music Theory Spectrum, GroveMusic Online, and NewMusicBox, and provided the booklet essay for Peter Ablinger's 33-127 on Mode Records and of Boulez and Stockhausen on Stradivarius Records (forthcoming).
From 2007 to 2010, Johnson was a postdoctoral teaching associate in music theory and composition at Northeastern University, in Boston. He currently resides in Arlington, MA.
http://www.evanjohnson.info