Daniel Goode ダニエル・グッド
録音のサンプルを聞くにはタイトルをクリックして下さい /

please click on the titles to hear the music samples
CF4
:
Ornate Trush
(2011) for flute, violin, piano trio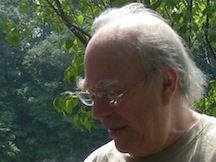 ニューヨーク生まれの作曲家でクラリネット奏者。哲学を勉強した後、音楽をヘンリー・カウエル、オットー・ルーニング、ポーリーン・オリヴェロス、ケネス・ガブロに師事。彼のソロ曲、アンサンブル曲、インターメディア作品は世界各地で演奏されている。1983年にダウンタウン・アンサンブルを結成し音楽監督を務める。1976年よりガムラン・サン・オブ・ライオンで演奏し作曲も手がけ、これまでリリースされた4枚のCDに作品が収録されている。2004年、ニューヨーク芸術財団より助成を受ける。また同年、新たなコンセプトのもとフレキシブル・オーケストラを結成し。以後、2010年現在、彼らがこれまでに初演した17曲のオーケストラの内自身の4曲がグード作品となる。フレキシブル・オーケストラは2006年にニューヨーク州音楽基金、2010年にキャリー公益信託とミート・ザ・コンポーザーから助成を受ける。http://
eamusic.dartmouth.edu/~larry/flexible_orchestra/

「サーキュラー・ソウツ」(テオドール・プレサー出版)、XIレーベルへのクラリネット曲集など、クラリネットソロ作品は革新的で評判を呼ぶ。「15楽器のためのトンネルの煙」はニュー・ミュージック・アメリカとバング・オン・ア・カン音楽祭で演奏され、レコード・レーベルTzadikで録音された。作曲の基盤が現れ始めたのは、1980年にニュージャージー州芸術財団の助成により、ロバート・クックにとの共同プロジェクトとして、州立学校の壁に取り付けられた銅のゴングとインスタレーションと障害者のための委嘱作品を書いたころである。以降クックとの共同プロジェクトは拡大し、歩いて入れる音の彫刻や、音の椅子に発展し、現在ニュージャージー・ハミルトン彫刻庭園美術館の一部として展示されている。
http://eamusic.dartmouth.edu/~goode
.
1999年ミート・ザ・コンポーザーの振り付け部門助成を受け、振付師ジョディ・オバーフェルダーとガムラン・オーケストラと7人のダンサーのためのプロジェクトの共同制作をする。最新のCD「エイト・スラッシュ」はニューヨークのフログ・ピークよりリリースされている。1996年ガムラン・サン・オブ・ライオンのジャワ島ツアーに参加し自作「アイネ・クライネ」を第2回ジョクジャカルタ国際ガムラン音楽祭で演奏した。劇場音楽作品「アコーディオンとバグパイプのためのエイト・スラッシュ」はトラスト・フォー・ミューチャル・アンダースタンディングの助成を受け、1994年ベルリン、1996年ベルグラード・ユーゴスラヴィア、2001年チェコのブルノ、2002年グルシア共和国のトビリシで演奏された。室内楽曲「12楽器のための2-Noter」は2001年にインタープレテーションズ・シリーズで初演された。1971年から98年までラトガース大学電子音楽スタジオの音楽監督を歴任。作品リストはフログ・ピーク・ミュージックにて→
www.frogpeak.org
http://www.danielsgoode.com/
Daniel Goode, composer and clarinetist, was born in New York. He studied philosophy, and then music with Henry Cowell, Otto Luening, Pauline Oliveros and Kenneth Gaburo. His solo, ensemble and intermedia works have been performed worldwide. He is co-founder/director of the DownTown Ensemble, formed in 1983. He has been a performer and composer with Gamelan Son of Lion since 1976. He is represented on all four of their CD releases. He is a 2004 Fellowship recipient from the New York Foundation for the Arts (NYFA). In 2004 he founded the Flexible Orchestra, a new concept of orchestra. He has premiered four works for this orchestra since then, which are among the seventeen new works premiered by the orchestra (as of 2010). The Flexible Orchestra received a major grant from the New York State Music Fund in 2006, and from the Cary Charitable Trust/Meet the Composer in 2010.
http://eamusic.dartmouth.edu/~larry/flexible_orchestra/
His innovative music for solo clarinet includes Circular Thoughts (Theodore Presser Co.) and Clarinet Songs on the XI label. Tunnel-Funnel for 15 instruments, was performed at New Music America and Bang on a Can festivals, and recorded on Tzadik.
His work in sound sculpture began in 1980 with a collaborative commission, with Robert Cooke, from the New Jersey State Council on Arts for a wall-mounted frieze of bronze gongs for installation in two state schools for the handicapped. Since then, their collaboration led to a large, "walk-in" sound-sculpture, the Seat of Sound, now part of the permanent collection at the Grounds for Sculpture, Hamilton, New Jersey. See:
http://eamusic.dartmouth.edu/~goode
.
He received a Meet the Composer Choreographer's Commission for his collaboration with the Jody Oberfelder Dance Projects, Resound for gamelan orchestra and seven dancers, New York, 1999 performed at Joyce Soho with Gamelan Son of Lion.
His latest CD release is Eight Thrushes in New York on Frog Peak.
In 1996 he was part of Gamelan Son of Lion's tour of Java, playing his Eine Kleine Gamelan Music at the Second Yogyakarta International Gemelan Festival. His theater-music work, Eight Thrushes, Accordion and Bagpipe, was performed at the Pfeifen im Walde festival in Berlin, 1994, in Belgrade, Yugoslavia in 1996, in Brno, Czech Republic, 2001, and in Tbilisi, Republic of Georgia, 2002, supported by the Trust for Mutual Understanding. His chamber symphony, 2-Noter, for twelve instruments was premiered on the Interpretations Series in 2001. He was director of the Electronic Music Studio of Rutgers University, 1971-1998. A complete catalogue of his published works is at Frog Peak Music:
www.frogpeak.org
.
His website is
http://www.danielsgoode.com/