Chong Kee Yong チョン・キーヨン
録音のサンプルを聞くにはタイトルをクリックして下さい /

please click on the titles to hear the music samples
CF2
:
Hover in the Horizon
(2010) for solo violin
Hibari:
Threnody to the mother of earth
~
Cadenza
~
(2011) for flute and electronics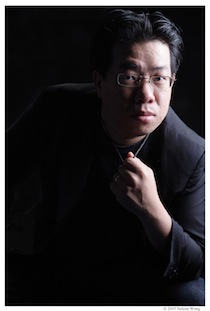 マレーシア現代音楽の中心的存在であり、今最も注目を集める作曲家のひとり。実験的な試みに逃げる作曲家が多いなか、新しい作法のなかにも自らの音楽を見いだし、多彩な音色を織り交ぜて独特の世界を創ることができる数少ない作曲家であり、ペーテル・エトヴェシュに「イマジネーション溢れポエティック」、ジョナサン・ハーヴェイに「とても独創的で純な芸術性がある」と賛辞を授かる。
作法が実験的かつ革新的でありながら、音楽は常に深く精神に訴え叙情的である。マレーシアに育った中国人系の作曲家であるため、多文化・先祖の影響を受け、その語法は多彩である。北京オペラとガムランのための「モノドラマ(2004)」、歌舞伎とアジアの葬儀 から構想された「ティアレス・ムーン(2006)」などが、いい例である。
マレーシアのクルアン、ジョホールの農家に生まれる。クアラルンプールのマレーシア芸術大学卒業後、西安音楽学院を経て、ブリュセル王立音楽院にて学び、現在の作曲のもととなる前衛的なテクニックと美しい詩的イメージを習得した。
2001
年修士課程修了後もブライアン・ファニホウ、ダアン・マネケ、ゾルタン・イェナイ、ペーテル・エトヴェシュ、サルヴァトーレ・シャリーノ、アンリ・プスール、ハンスペーター・キーブルツ等に指導を受ける。
1999
年と2003年にベルギー王立アカデミーからのMarcel Hastir賞受賞をはじめ、2002年の第4回Andrzej Panufnik国際コンクール(ポーランド)、2003年の第2回ソウル国際作曲コンクール、2004年のマックス・レガー国際作曲コンクール、2004年のマレーシアオーケストラ国際作曲賞、2006年のLepo Sumera国際作曲音楽賞、2006年のルトスワフスキ賞、2007年のイサンユン国際音楽賞、ドイツの作曲コンクールで2位、2008年と2009年にルクセンブルク国際作曲コンクールで3位、各賞を受賞。
これまでの委嘱作品も数多い。留学していたベルギー国内では、アンサンブルPrometheus、シュピーゲル四重奏団、トランジット・ニューミュージックフェスティバル、Hetコレクティヴアンサンブル、Spectraアンサンブル、フランドル交響楽団八重奏 団からの作品委嘱を受ける。ドイツではアンサンブル・モデルン、ベルリン芸術アカデミー、Herrenhaus Edenkoben、Viva2007フェスティバル、アメリカでは、アジアン・カルチュラル・カウンシル、セルゲイ・クーセヴィツキー音楽財団からの作品委嘱を受ける。母国マレーシアではマレーシア交響楽団、マレーシア文化・芸術・文化遺産省からの委嘱を受ける。
ベルギーでは、Hetコレクティブアンサンブル、アンサンブルPrometheus、アンサンブルSpectra、Quatour Danel、オランダでは、アムステルダム・シンフォニエッタ、ニューアンサンブル、ドイツではKairosカルテット、トリオJean Paul、アンサンブルAventure、アンサンブルMosaik、アンサンブル・モデルン、アンサンブルIntegrale、スイスでNouvel Ensemble Contemporain、チューリッヒ現代音楽アンサンブル、韓国で
SORI
アンサンブル、オーケストラではマレーシアフィルハーモニックオーケストラ、メルボルン交響楽団、フランドル交響楽団八重奏団、エストニア国立交響楽団と関わった。
2006
年、ペーテル・エトヴェシュの推薦でHerrenhaus Edenkoben財団の作曲家レジデンシーに参加。2007年アメリカの作曲家Chou Wen ChungとChinary Ungの招きにより、ニュージーランドで行われたアジアパシフィックフェスティバル&会議に参加。同年、アジアン・カルチュラル・カウンシルの招聘作曲家としてニューヨークに滞在。
最近の作品としては、ヴァイオリンとピアノのための新曲(2009年、TIMFコリアアンサンブル)、シェンと2台ピアノ&2人の打楽器奏者のための新曲(2009年、アンサンブルベルリンピアノパーカッション)、ギター4重奏(2010年、Kalesギター4重奏)、ヴァイオリンとテープ(2010年、Wibert Aerts)、エレクトロニックギターと打楽器(2010年、Ning KamとColin Currie)、チェロ独奏とペインターのための(2010年ベルギーFormations Musicales de Wallonieエレクトロニックスタジオのレジデンシー委嘱)、ライブエレクトロニックとヴィデオのための(2010年、ベルギー)があげられる。

www.chongkeeyong.com
Chong Kee Yong, one of the Malaysia's leading contemporary music composer, is one of the most exciting voices today. Few composers can manage to fashion a truly individual sound from the experimental techniques of today, and Chong belongs to this special class who can turn a melange of exquisite timbres into a compelling piece of music with his own fingerprints, music that composer Peter Eötvös describes as "imaginative and poetic" and composer Jonathan Harvey comment his music as "very inventive and artistically pure".
His style is highly experimental and innovative, yet deeply spiritual and lyrical in its own way. Chong's musical language is enriched by his own Chinese, as well as the multicultural Malaysian, heritage; for example there are traces of Beijing Opera and Gamelan in Monodrama (2004) and hints of kabuki and Asian funeral rituals in his symphonic work Tearless Moon (2006).
Chong was born in Kluang, Johor, where his parents were farmers. He graduated from the Malaysian Institute of Arts in Kuala Lumpur and completed his Bachelor of Arts at the Xian Conservatory with Prof Rao Yuyan and Prof Zhang Dalong. Professor Rao recommended that Chong pursue his final studies at the Royal Conservatory of Music of Brussels (Flemish & French sections) under the guidance of Prof Jan Van Landeghem and Prof Daniel Capelletti. There he acquired the tools for his compositional style today, which is a delightful balance between the most cutting edge modern techniques and a deep sense of poetic beauty.
In 2001 Chong graduated as Master of Composition with Highest Honours. His post-graduation studies include numerous master classes with composers such as Brian Ferneyhough, Daan Manneke, Zoltan Janey, Peter Eötvös, Salvatore Sciarrino, Henri Pousseur, and Hanspeter Kyburz.
Chong's distinctive style has won him an unending series of awards and commissions. His list of prizes at various competitions is remarkable, for example the Prix Marcel Hastir by Belgium Royal Academy of Sciences, Letters & Fine-arts (1999, 2003), the 4th International Andrzej Panufnik Competition for Young Composers in Poland (2002), the Grand Prix at the 2nd Seoul International Competition for Composers (2003), the Max-Reger-Tage International Composition Competition in Germany (2004), the Malaysian Philharmonic Orchestra International Composers' Award (2004), 2nd Lepo Sumera International young composer prize (2006), Lutoslawski award (2006), BMW award in the International Isang Yun Music Prize in Korea (2007), Second prize in the Preisträgerkonzert des Internationalen Kompositionswettbewerbes "global music – contemporary expression" in Germany, 3rd prize in Luxembourg International Composition Award 2008 and in 2009, Chong was awarded the prestigious commission grant award by the Serge Koussevitzky Music Foundation. (USA)
He receives numerous commissions and grants, for example from Ensemble Prometheus (Belgium), Spiegel Quartet (Belgium), Transit New Music Festival (Belgium), Het Collectief ensemble (Belgium), Sprectra ensemble (Belgium), Spectra Ensemble (Belgium), Ensemble Modern (German), Akademie der Künste (Berlin), Herrenhaus Edenkoben (Germany), Malaysian Philharmonic Orchestra, Asian Cultural Council (New York), Viva 2007 Festival (Munich), Vlaaderen Symphonie Orkest (Belgium) the Serge Koussevitzky Music Foundation (USA) and the ministry of Culture, Arts & Heritage of Malaysia.
Chong has also worked with distinguished musicians such as Het Collectief Ensemble, Ensemble Prometheus, Ensemble Spectra, Quatour Danel in Belgium; Amsterdam Sinfonietta, Nieuw Ensemble in Holland; Kairos Quartett, Trio Jean Paul, Ensemble Aventure, Ensemble Mosaik, Ensemble Modern, Ensemble Integrale in Germany; Nouvel Ensemble Contemporain, Ensemble fur Neue Musik Zurich in Switzerland ; SORI ensemble in Korea and such orchestras like Malaysian Philharmonic Orchestra, Melbourne Symphony Orchestra, Vlaaderen Symphonie Orkest and Estonia National Symphony Orchestra.
In 2006 Prof Peter Eötvös nominated Chong for a composer's residency at the Herrenhaus Edenkoben Foundation, Germany from August - December 06. In 07 Chong has been invited by American composers Chou Wen Chung and Chinary Ung to present his music in a join concert in New York and his viola work was performed at the Asia Pacific Festival & Conference in Wellington, New Zealand. Most recently, he received a visiting artist fellowship to live in New York for 6 months (May-October 07) from the Asian Cultural Council (New York).
His upcoming projects included new piece for violin and piano (2009, TIMF Korea ensemble); New work for Sheng, 2 pianos and 2 percussionists (2009, Wu Wei & Ensemble Berlin PianoPercussion); New work for Chinese ensemble & western ensemble (2010, Dragon Ensemble and Het Collectief ensemble) New work for Guitar quartet (2010, Kalès Guitar Quartet); New work for solo violin and tape (2010, Wibert Aerts); Double concerto for Elec-violin and percussion (2010, Singaporean violinist Ning Kam and British percussionist Colin Currie) and 2010 artist in resident in the Centre de Recherches et de Formation Musicales de Wallonie Electronic studio of Liege (Belgium) with a new commission for cello solo, live performer (painter), live electronic and video. (2010, Belgium)
www.chongkeeyong.com