Chañaral Ortega-Miranda チャニャラル オルテガ=ミランダ
録音のサンプルを聞くにはタイトルをクリックして下さい /

please click on the titles to hear the music samples
CF6
:
In Memoriam Eduard Sõrmus
(2014) for violin solo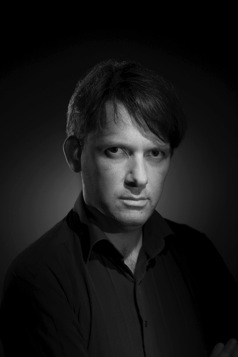 1973年チリのアリカに生まれ、 生後6年はフランスで亡命生活を送る。 1989~1993年までブエノス アイレスにて音楽理論を学んだ後、 2000年まで作曲をパリ・エコールノルマル音楽院でセルジオ・オルテ ガに、ストラスブール音楽院でイヴァン・フェデーレのもと作曲を学ぶ。 1993~2000年Musiques à l'encre fraîche音楽フェスティバルに参加。 アヴィニョンにてジョナサン・ハーヴェイ、ミカエル・ジャレ ル、ゾルタン・イエナイ、 ペーテル・エトヴェシュに、 ロワイヨモン音楽セミナーにてブライアン・ファニホウ と ス テ フ ァ ー ノ・ジ ェ ル ヴ ァ ゾ ー ニ に 作 曲 の レ ッ ス ン を 受 け る 。 ブ ロ ー ニ ュ = ビ ヤ ン ク ー ル を 拠 点 と す る 現 代 音楽を広めるための組織Syntonoの創設者のひとり。賞を受賞したオーケストラ作品「Q'inti」はインカ 伝説にインスパイアされた作品である。
Born in Arica, Chile, in 1973, Chañaral Ortega-Miranda was exiled in France for the first six years of his life. After studying musical theory and composition in Buenos Aires from 1989 to 1993, he attended Sergio Ortega's composition classes at the École Normale de Musique de Paris until 2000. He then attended the Conservatoire de Strasbourg where he studied with Ivan Fedele. He participated in the annual Musiques à l'encre fraîche festivals from 1993 to 2000. He has also worked with Jonathan Harvey, Michael Jarrell, Zoltan Jeney and Peter Eötvos at the Acanthes Centre and participated in the composition session at the Fondation Royaumont: Voix Nouvelles with Brian Ferneyhough and Stefano Gervasoni. Ortega-Miranda is a cofounder of the Association Syntono, Boulogne-Billancourt, which supports the composition and promotion of contemporary music. "Q'inti", his award-winning composition for orchestral ensemble, is inspired by an Inca legend.