Ben Isaacs ベン・アイザックス
録音のサンプルを聞くにはタイトルをクリックして下さい /

please click on the titles to hear the music samples
CF4
:
various inflections
(2011-2) for flute, violin, piano trio
Hibari:
This Horizontal Line
(2011) for flute solo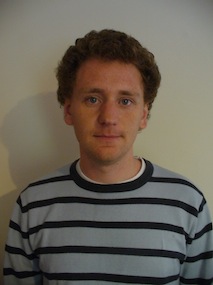 表現を厳選し限られたところで繊細で不安定な音づかいを魅せる作曲家として知られている。しばしば楽器の音域や低減の限界を超えることを要求する。作品はディオティマ弦楽四重奏団、
Haynes/Ballon/Knoop
トリオ、ケイト・レジャー、セヴェリヌ・バロンによって演奏されている。
2009
年ハダースフィールド現代音楽祭でニューアンサンブルによって作品が初演される。最近のプロジェクトとしてはピアノ奏者セバスチャン・バーヴェック、サックス奏者エレリ・アン・エヴァンスへの新曲委嘱がある。ハダースフィールド大学でアーロン・キャシディとブリン・ハリソン両氏に師事。レイ・エバノフへのインタビュー記事をハダースフィールド大学機関誌
CeReNeM
に寄稿した。
benisaacscomposer.wordpress.com
Ben Isaacs is a composer whose music is characterised by its limited gestural palette and preference for weak, unstable sounds, often occurring at extremes of instrumental register and quietude. He has recently written music for Quatuor Diotima, the Haynes/Ballon/Knoop trio, Kate Ledger, Séverine Ballon, Reiko Manabe and the Nieuw Ensemble, who premiered and darkness sweeps in like a hand at HCMF 2009. Current and future projects include pieces for pianist Sebastian Berweck and saxophonist Eleri Ann Evans. Ben studied at the university of Huddersfield with Aaron Cassidy and Bryn Harrison. An interview he gave to Ray Evanoff can be found in the first edition of the CeReNeM Journal.
benisaacscomposer.wordpress.com