Arturo Corrales アルトゥロ・コラレス
録音のサンプルを聞くにはタイトルをクリックして下さい /

please click on the titles to hear the music samples
CF5
:
canon fractal por aumentación sobre una melodía popular (FOLK YOU TOO!)
(2013) for piccolo, violin, piano trio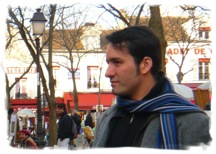 1973年エルサルバドル生まれ。幼少より音楽と絵に親しむ。エルサルバドルで音楽と同時に建築の学位も取得。ジュネーブとルガーノに於いて、作曲、電子音楽、指揮法を学ぶ。2004年エドムンド・ペンデルトン賞受賞、パリ第8大学にて音楽学修士号を取得。ジュネーブのアンサンブル・ボルテックス結成時からのメンバー。作曲は実験的試みを取り入れながらも、自身の出自から民族音楽やポピュラー音楽の影響がみられる。独自の作風の統一感、時空のコントロールにこだわり、"生きていて人間らしい"音楽としてとらえられる作曲の表現を目指している。ジュネーブ市民音楽院作曲ならびに音楽分析、ギターを教える。現在フーガを題材とした博士論文取り組んでいる。

www.arturocorrales.com
Arturo Corrales (*1973), started from his childhood music and painting. He acquires a degree in architecture as well as a first music formation in his home town, El Salvador. He concludes his studies in Geneva and Lugano : composition, electroacoustics and orchestral conducting. Price Edmund Pendleton 2004 and Master of musicology in Paris VIII.
He is co-founder of the Ensemble Vortex in Geneva.
Of determinedly experimental conception, its work of creation is often inspired by ethnic and popular domains. Constantly attentive to the formal coherence of his works, to the control of their projection in space and time, he wants to facilitate the expression and the perception of a "livable and human" music.
Next to his activities of composer, interpreter and conductor, Arturo Corrales teaches the guitar and is the professor of composition and analysis in the Conservatoire Populaire de Genève. He prepares a doctoral thesis on the theme Musical Figures.
www.arturocorrales.com